LEADERSHIP
Dr. Ram Buxani(Ph.D, D.Litt)
Chairman, ITL Cosmos Group
Dr. Ram Buxani, who has been a resident of Dubai for over five decades, is the chairman of ITL Cosmos Group.
Buxani's name is synonymous with grit and determination, a quality required to succeed in the competitive city of Dubai. His achievements read like a credits sequence at the end of a movie with him having a hand in literally every aspect of the Indian community's growth in the UAE. He is a prominent spokesperson of the NRIs and has played a key role in interacting with the Indian Government on their behalf. He is the Founder-Chairman of the Overseas Indians Economic Forum, a prime NRI organisation which subsequently merged with the Indian Business & Professional Council.
He has also received a shield from the President of India for his contributions to the NRI community. His involvement extends to institutions like India Club Dubai, of which he served as chairman from 2012 – 2015. He earlier chaired the Club from 1990 to 1994. He was also chairman of the Indian High School Dubai from 2000 to 2004. He is board member of Al Noor Training Centre for Children with Special Needs and is connected with various other charitable and voluntary organisations including Rotary Club of Jumeirah.
In 2004, Buxani was conferred a doctorate degree by Washington International University for his thesis 'Governance of Dubai: The influence of tribal tradition in decision making, especially in the critical periods of the development of the city-state'. In 2015, Dr. Buxani was also conferred with a honorary degree of Doctor of Letters (D.Litt) by the D.Y. Patil University in Navi Mumbai.
For his unprecedented business and philanthropic contributions, he was felicitated with the ultra-prestigious Forbes (ME) Lifetime Achievement Award in 2017.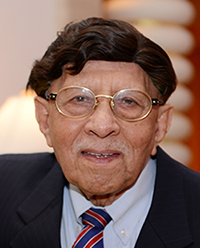 Late Murij Manghnani
Former Chairman, ITL Cosmos Group
Late Murij Manghnani was at the helm of ITL Cosmos Group's formative years, giving it shape and always believing in teamwork as the basis of success. He was instrumental in the foundation of ITL Cosmos Group as a subsidiary of the Intra Group.
Manghnani has been an ardent believer of the need to contribute back to humanity. His philanthropic feats have a legendary tinge to it, even amazing people with his passion of distributing his wealth for worthy causes.
Never an arm-chair manager and never believing in corporate clichs, Manghnani led from the front, exuding warmth, always being human, supporting art and promoting culture all his life. He has been instrumental in sending thousands of Sindhi youths to work in various international locations, thereby helping countless households to stand on their feet. He set up various charitable trusts that run schools, colleges, nurseries, supports hospitals, cultural centres and geriatric care centres.
Having resided in the emirate of Dubai and among the well-known names in the city, Manghnani's story is truly exemplary. His magnanimous philanthropic work and sharp business acumen have inspired many other success stories to arise out of the UAE.
OVERVIEW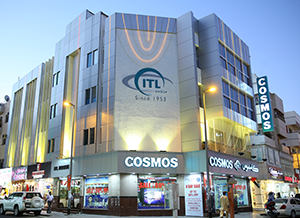 International Traders (Middle East) Ltd. Is the first company in Dubai to receive a decree of incorporation from His Highness Sheikh Rashid Bin Saeed Al Maktoum, regarded as the Father of Modern Dubai.
The Decree was issued five years after the company was founded in 1953 in Dubai, deriving growth impetus from the open-hearted approach of His Highness Sheikh Rashid to new enterprises.
Founded when Dubai was part of the Trucial States, ITL Group built its business-base from humble beginnings. Initially, textiles were the principal trade of the company. With the oil boom and the socio-economic prosperity that accompanied, ITL Group moved into consumer electronics- one of the first companies in the region to do so. Thus was born the Cosmos era- a new chapter in the retail sector of Dubai.
Since then, ITL Cosmos Group has consolidated its pole position in consumer electronics, IT and PC products, telecommunications, home and kitchen appliances, photographic products, business equipment, data and storage products, clocks and watches, personal grooming products, household products, office stationery, textiles, linen and luggage, food and personal banking
Today the group is active in manufacture, distribution, retail and financial services remaining at the forefront of the marketplace bringing the latest products and services to the customer. The Group's success is a story of strife and reward, and the company's growth is a direct result of the growth of the Emirates itself.
ITL Cosmos Group is synonymous with fair business practices, ethics quality service and commitment to society.
OUR PRIDE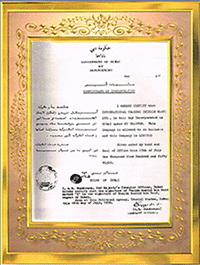 ITL Cosmos Group is the first company in Dubai to receive a decree of incorporation from the Ruler of Dubai late His Highness Sheikh Rashid bin Saeed Al Maktoum in the year 1958 – a matter of immense pride! The decree was issued five years after the company was founded in 1953 in Dubai, deriving growth impetus from the open- hearted approach of His Highness Sheikh Rashid to new enterprises.
The development of the group and the emirate Dubai have gone hand in hand complementing each other in growth, success and far sighted vision.
His Highness Sheikh Rashid's decree was a turning point for the five – year- old company, which set to fulfil its mission-a promise to the Ruler to serve the community and work towards the prosperity of the nation.
CHAIRMAN'S MESSAGE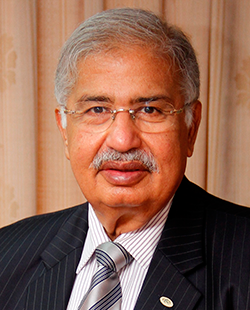 Success is a habit and Dubai proves this golden adage.
ITL Cosmos Group has imbibed its growth synergy from this dynamically evolving nation and today having accomplished our goals, we are setting new ones in tune with the demands of the future.
The Group was established at a time when there was no similar formula for growth in Dubai that we could replicate. After all, Dubai was not the gleaming metropolis that it is today. It was an evolving trading port and our founders realized the growth opportunity offered by Dubai. We surprised them with the warmth and welcome they received in this city a tradition that still continues.
In this journey, our prime drivers are the customers and society. By aligning our goals with societal well-being, we are now proud to further strengthen our corporate social responsibility initiatives.
It is a journey of consistent innovation, one that has marked our evolution from Day One.
Dr. Ram Buxani (Ph.D, D.Litt), Chairman, ITL Cosmos Group
THE HISTORY
1953

Company established in Dubai under the name of International Traders (East Africa) Ltd.

1958

Receives special charter from the Ruler of Dubai, H.H. Sheikh Rashid bin Saeed Al Maktoum,

on the 15th of July 1958 and changes its name to International Traders (ME) Ltd.

1960

ITL Group opens its first Departmental Store in Dubai under the name of Cosmos.

1969

Cosmos showroom opens in Deira.

Universal Corporation started to handle indenting and wholesaling of Textiles

1970

Acquire majority shareholding of Ambassador Hotel, Dubai.

Cosmos Branch opens in Abu Dhabi.

1974

ITL Corporate Head Quarters and Cosmos Showroom move to multi storeyed ITL House in Cosmos Lane, Bur Dubai.

Branch opens in Muscat under the name of International Traders (Oman) LLC.

1976

Kwality Ice Cream Sharjah- a Joint venture with Pure Ice Cream Co Ltd, India, Regal Traders and K.M.Bros to manufacture Ice Cream.

1977

Acquire majority shareholding of the Astoria Hotel, Dubai.

1978

Ruler of Dubai congratulates ITL Cosmos Group on achieving 25 years of uninterrupted success.

1980

Cosmos sets up showroom in Sharjah.

1981

Al Razouki International Exchange Co's 1st branch (Managed by Canara Bank, India) opens in Deira.

1983

Pan Arab Agency established.

Branch of Al Razouki Exchange Co. opens in Bur Dubai.

1986

Cosmos Showroom opens in Fujairah.

1987

Cosmos Showroom opens in Ras Al Khaimah.

1988

Cosmos Galleria Showroom opens.

New Cosmos Showroom opens in Deira.

1989

Kings Fortune General Trading LLC. established.

1991

ITL's new textile wholesale division Intra's opens.

1992

Al Razouki International Exhange Co., Karama Branch opens.

1993

ITL Cosmos Group celebrates 40 years of achievements in the UAE.

1997

New Cosmos Warehouse opens in Al Quoz Cosmos News – ITL Cosmos Group's newsletter is launched.

1998

Cosmos celebrates 45th anniversary.

ITL Cosmos Group website is launched.

2000

Cosmos enters IT sector through establishment of Micro Computer Centre in Dubai.

2003

ITL Cosmos Group's new logo is unveiled.

Cosmos JAFZ branch inaugurated.

ITL Cosmos Group celebrates 50 glorious years.

2004

Cosmos new Office in Abu Dhabi opens

2006

On The Dot-a new clock showroom in Sharjah set up.

Al Razouki International Exchange Co. celebrates Silver Jubilee.

2008

50 Years of ITL Cosmos Group and Sharp collaboration celebrated.

2011

Cosmos Group and Rhythm celebrate 50 golden years of partnership.

2012

Al Razouki International Exchange Co. inaugurates its new Head Office in Dubai.

Al Razouki opens branch in Sonapur, Dubai.

2013

ITL Cosmos Group celebrates 60th anniversary of establishment in Dubai.
THE LEGACY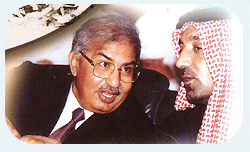 HH Sheikh Ahmed bin Saeed Al Maktoum, President, Dubai Department of Civil Aviation and Chairman, Emirates Group with Dr. Ram Buxani.
---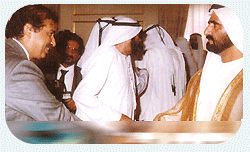 HH Sheikh Mohammed bin Rashid Al Maktoum, Vice President & Prime Minister of the UAE and Ruler of Dubai with Dr. Ram Buxani
---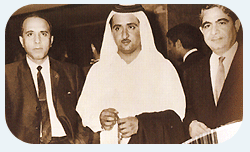 The Ruler of Dubai late HH Sheikh Maktoum bin Rashid Al Maktoum with Mr. Murij Maghnani and Mr Adi Bitar, the first legal advisor of the Dubai Government.
---
---